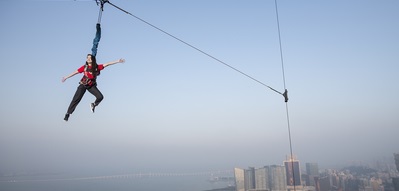 Watching adventure sports is surely a treat to the eyes for those who love it. If you are also an enthusiast of adventure sports, you might be imagining a chance to try on these exciting sports. At Once in a Life, we provide customers the chance to enjoy the most extreme adventure activities so they can remember it for a lifetime. One such exciting adventure is the flying fox adventure also known as zip line. You can experience flying fox adventure package in Dubai, Switzerland, Macau or Iceland. It is an excellent way to get both your adventure and nature fix. It definitely provides an adrenaline rush!
What to expect on the tour?
The time taken for a flying fox adventure is almost half a day. Much of the time goes on the bus ride and the hike. The adventure goes on pretty fast. There are two ways you can hang on the zip line. You can either choose to hang by facing the zip, or you can face your back towards the zip. The adventure tours do not cost a lot.
Once you reach the launch platform, the guide will strap you, and as you lift your feet, they will set you free. During the early few feet you will drop down a little bit and this is supposed to happen so don't worry. As you are approaching the end of the zip line, it seems as if you are going to hit the tree in front of you but you certainly wont. The guides have the proper breaking system to control the adventure and help you towards the end with your landing. We have options of straight zips, down rappels and angled zips. If you are looking for a more adventurous trip, then you should choose the down rappels or angled zips. Most tours operate even during the rainy season to make the flying faster and to add a little more excitement. Take a break from lounging at the beach and put some excitement in your day by taking a flying fox adventure with us. Visit Site for more details.